A Court of Thorns and Roses by Sarah J. Maas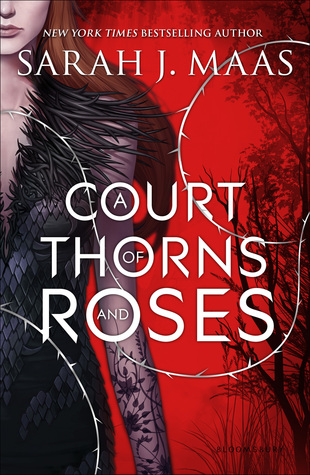 4.5 out of 5 stars
Summary: Feyre hunts in order to provide for her poverty stricken family; one day while Feyre is out hunting she shoots a gigantic wolf and sells the skin. Later that evening a faerie barges into Feyre's household and informs her that the wolf she killed was actually a faerie. As retribution the faerie (Tamlin) declares that Feyre must live out her life in the land of the Fae. Feyre is displeased to leave her family and fearful of how they will fend for themselves. Eventually she learns to live with (and even enjoy) the world of the Faes, becoming closer with the high faerie Tamlin and Lucien. The faeries of this land are forced to wear masks due to a blight that is destroying Tamlin's kingdom. Feyre discovers that she is the one who can put a stop to the infection and ultimately put an end to the reign of an evil faerie, Amarantha. In order to save the world of the Fae and release them from this curse Feyre must fight for her life, her love and complete three challenges.
Review: I was slightly hesitant to read this book because I loved "Throne of Glass" and was nervous that this book wouldn't be as good but Sarah J. Maas pushed my fears aside! I loved this book!! Maas has created yet another strong relatable female character. Feyre is an amazing character; she's strong, witty and has faults. She second guesses her own actions but is strong enough to keep pushing through the obstacles. While Feyre is very fleshed out Tamlin and Lucien were a little more one-dimensional. I would at times mix these two male faeries up; they are both strong brooding males with troubled histories and it took me until about half way to really grasp which one was which. I wish these characters had a little more behind them, I would have loved to have been given a greater insight. My favorite character, by far, was Rhysand. Rhysand, the hot and dangerous type, had his own secret agenda. Feyre and Rhysand (who doesn't appear until later in the novel) are the main reason why I enjoyed this book so much. These two characters were presented with so much emotion that you couldn't help but be enthralled with them. A lot of the small players in the book all seem to have stories to tell as well (Alis, Nesta, etc) and I would love to hear them (hopefully in the next book?!?). Maas really has a way of creating unique characters with a lot of layers.
Now that I've declared my love for the characters lets move on to the plot. This is a relatively fast moving book, the plot goes quickly and smoothly. The transitional period between locations was often brief and overlooked but it didn't really affect the quality of the book. I was also thrilled that A) there wasn't a love triangle and B) there was no instalove. Feyre's feelings for Tamlin seem to grow somewhat naturally (and slightly stockholmie but I'll forgive it). The first half of the book there is a lot of build up- introduction to the history, the lands and the characters, but the second half was a lot of action- love, betrayal and challenges. There are a lot of intricacies in this book and I'm sure if I read it again I would notice something I missed the first time around. I will give a slight warning to teens who are interested in reading this title or librarians who are going to suggest this book: there are sexual encounters and they are somewhat graphic, this book does go beyond sweet kisses and gentle making out and might even be considered "new adult" instead of "young adult." The sex scenes are few and far between but they are there so be wary of recommending this to someone who is not ready (or has parents who aren't ready) for this type of action. I highly recommend that libraries have this book in their collections, this book is perfect in the hands of people who love fantasy, faeries, mystery and a strong female character
I CAN'T WAIT FOR THE SECOND ONE!!!
*please note that I received an advanced copy of the book from NetGalley